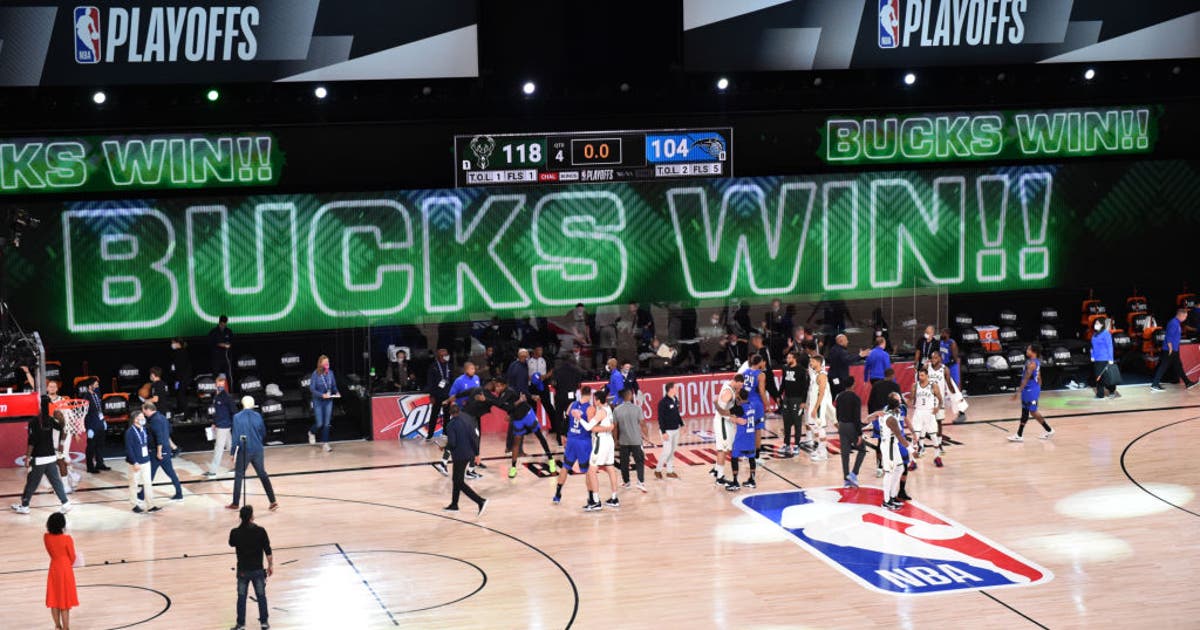 Giannis got some work in for the next series
Orlando found a way to flummox Giannis Antetokounmpo in the first two games of the series, holding the Milwaukee forward to 22-for-48 shooting (45.8%), including 18-for-36 on his 2-point attempts. But Antetokounmpo adjusted and the Magic just couldn't stop him the rest of the series. Giannis made 12 of 14, 14 of 21 and 11 of 17 shots in the final three games. The interior defense of Miami, Milwaukee's second-round opponent, will be tougher than Orlando's. As if to show the Heat he's more than an inside man, Antetokounmpo drained 3 of 6 3-point attempts in Game 5 – the last time he had 6+ 3 attempts and made at least half was Dec. 19 (5 of 8 vs. the Lakers) — and also made a nice mid-range jumper. Giannis consistently hitting 3s might be the biggest nightmare for NBA defenders.
More Bucks coverage
The Bucks are incredibly deep
If it seems like there's always someone different stepping up for the Bucks every game it's because, well, that's pretty much what's happening. The starting five is the starting five, of course, but the bench mob is a big part of Milwaukee's success, too. In Game 2 it was Pat Connaughton (15 points, 1 rebounds). In Game 3, Kyle Korver nailed three 3s. In Game 4, Korver had 10 points and George Hill pitched in with nine points to go with six assists and two steals. In Game 5, it was Marvin Williams. The veteran forward played a combined 20 minutes the previous two games but drilled four 3-pointers for his 12 points and also added seven rebounds in 22 minutes in Game 5.
The suffocating defense is back
Orlando blistered Milwaukee in Game 1, shooting 49.4% from the field. The next four games? 34.8%, 45.2% (42.2% from 2), 41.4% and 39.4%. That's more in tune with the Bucks we know and Milwaukee will need to keep it up to make any longer postseason run.
The Magic had no No. 2 (and the Bucks' is back)
Nikola Vucevic was Orlando's obvious go-to guy this series. But the Magic could never find anyone to complement him. Evan Fournier tried to be that guy, but thanks in part to stellar defense by Wes Matthews, he never could get untracked. A 46.7% shooter during the regular season, Fournier made a series-high 41.7% of his shots in Game 5. He was held under 40% in three games and exactly at 40% in another. Meanwhile, the formerly struggling Khris Middleton nearly had a triple-double, putting up 21 points, 10 rebounds and seven assists. The Bucks train appears to be back on the rails in all phases.
The Heat aren't the Magic
Dispatching Orlando in five games was in the realm of expected (minus those who panicked after a Game 1 loss). Getting past Miami in five games would be a whole lot tougher. The Heat beat the Bucks twice during the non-bubble portion of the regular season, 131-126 in overtime on Oct. 26 in Milwaukee and 105-89 on March 2 in Miami. The Bucks topped the Heat in Orlando, 130-116 on Aug. 6, but Miami was without Jimmy Butler, among others. In three games against the Heat this season, Antetokounmpo averaged 25.0 points in 32.5 minutes, his worst points per minute (0.769) against any team in which he played more than once in 2019-20. Referring back to our first topic above, Giannis was 0-for-13 on 3-point attempts against the Heat this season. This is going to be quite the battle.