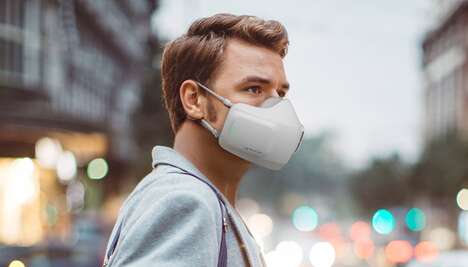 The PuriCare Wearable Air Purifier by LG is equipped with a pair of three-speed fans and a set of filters, offering technology that's comparable to the brand's own household air purifiers. The wearable device resembles a face mask and boasts a built-in respiratory sensor that detects the wearer's breath so that its fans can be appropriately adjusted.
Knowing that people may be wearing their masks for prolonged periods of time, LG set its PuriCare Wearable Air Purifier up with a battery that's capable of going for eight hours on a single charge.
When the wearable air purifier is not in use, it can be stored in a case so that ultraviolet LED lights can purify its surface as it charges. The mask is also set up with smart features, so that it can connect to a smartphone and indicate when the filters need replacing.
Image Credit: LG