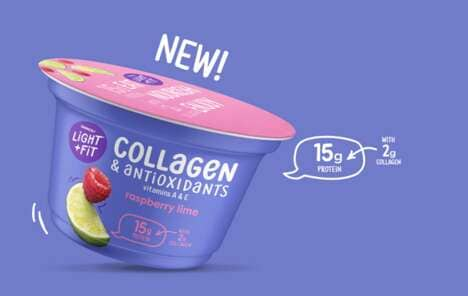 Dannon's Light + Fit yogurt range is well-suited to those looking to increase their protein and vitamin intake, while also enjoying a creamy and flavorful snack that they can look forward to indulging in.
The non-fat yogurt packs in 15g of protein per serving, which includes 2g of collagen—the structural protein that's said to help relieve joint pain, promote heart health, and improve skin. Light + Fit also contains antioxidants, as well as vitamins A and E. Dannon offers the range in four fruity flavors: Mango Kiwi, Cherry Black Currant, Tangerine Grapefruit, and Raspberry Lime.
The yogurt can also be integrated into a variety of recipes as a healthy topping or an alternative to heavier products, which can be accessed through Dannon's website.
Image Credit: Dannon