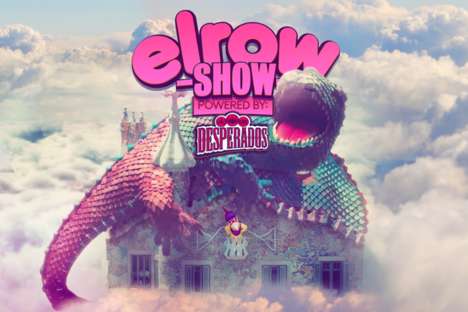 Dierderik Vos is the Global Brand Director for Sol and Desperados, playing a heavy hand in navigating through the current crisis. The COVID-19 pandemic has impacted civilians at a global scale, causing a shift in normal life experiences. As the world becomes physically restricted, party goers are searching for safe ways to connect, which leads to the launch of the 'elrow Show.' To adapt to the new reality, Desperados has shifted its marketing strategy accordingly in order to encourage creativity and cater to safer party activations.
To learn more, we chatted with Diederik Vos about new marketing shifts, navigating virtual party experiences, and how the pandemic has impacted in the beer industry presently and it's future.
Can you tell us a little bit about yourself and your role with Desperados? What does Desperados do?
I've been with HEINEKEN for 15 years, including working in several marketing and brand director roles in the Netherlands, South Africa and Canada. As Global Brand Director for Sol & Desperados, I'm responsible for the development and growth of both brands globally. This includes building and evolving our global strategy, providing the right support and tools for markets to implement locally and driving experimentation and innovation of both brands and adapt to consumers changing needs.
The marketing strategy for Desperados is designed to drive creativity & experimentation in parties and shake up traditions in the beer market, leading us to push the boundaries when planning our activations. This includes Epic House Party, where we challenged consumers to enter their epic party ideas through social media and brought them to life at the world's largest crowdsourced party, as well as Deep House, where we transformed the world's deepest pool into a dancefloor. More recently, we joined forces once again with our long-term partner elrow to launch a series of live stream DJ sessions where we transported partygoers from their homes to epic locations across Spain.
How has Desperados shifted their strategy during these uncertain times?
With varying levels of lockdown, social distancing guidelines in place and festival plans cancelled for the near future, we wanted to offer consumers a platform where they could still experience the unrivalled sense of connection that a party brings. This is why we revised our strategy to "Stay Home Party Apart" and moved the party online as everyone was spending more time indoors looking for a way to connect with others.
In collaboration with our long-term partner elrow, we came up with virtual DJ sessions that offer an energetic distraction from the outside world. From a line-up of world-class DJs and epic production, we're redefining party experiences and connecting partygoers virtually around the world. We've seen great engagement with the virtual parties so far, as our first major online push for the brand has reached over 31.2 million partygoers.
What are some elements that were important to retain during the shift to an online platform?
At Desperados, we are committed to moving the party forward through creativity and innovation. For now, that means offering a virtual platform that gives people the chance to still experience an epic party and keep the party spirit alive. Our parties are visual and high energy, so we wanted this to be the case through the virtual sessions as well. To make this happen, for the elrow show powered by Desperados we applied the same creative and passionate production from Desperados and elrow parties in the past, with DJs, acrobatics, an epic stage with confetti and décor, as well as interactive games and surprises for partygoers.
We've always used a varied mix of marketing platforms in our campaigns, including on social and digital, to ensure we engage with our consumers around the world. Given the current situation, we've built on our strong social presence and have further accelerated digital plans which were already in place, including our experimentation with new platforms such as Twitch, which will live stream all sessions of the elrow Show powered by Desperados.
How will this pandemic continue to impact the industry in the long term?
This space is evolving for brands and people alike. And although it is too early to say what the future of events and experiences looks like, we do see the shift to digital playing a much bigger role. At Desperados, we're merging our digital efforts with our experiential efforts to redefine how parties can be experienced because, for us, the need is still the same. It's about connecting with consumers via unique experiences, and so far, we've seen a great appetite for this experimentation and connection in the digital space.