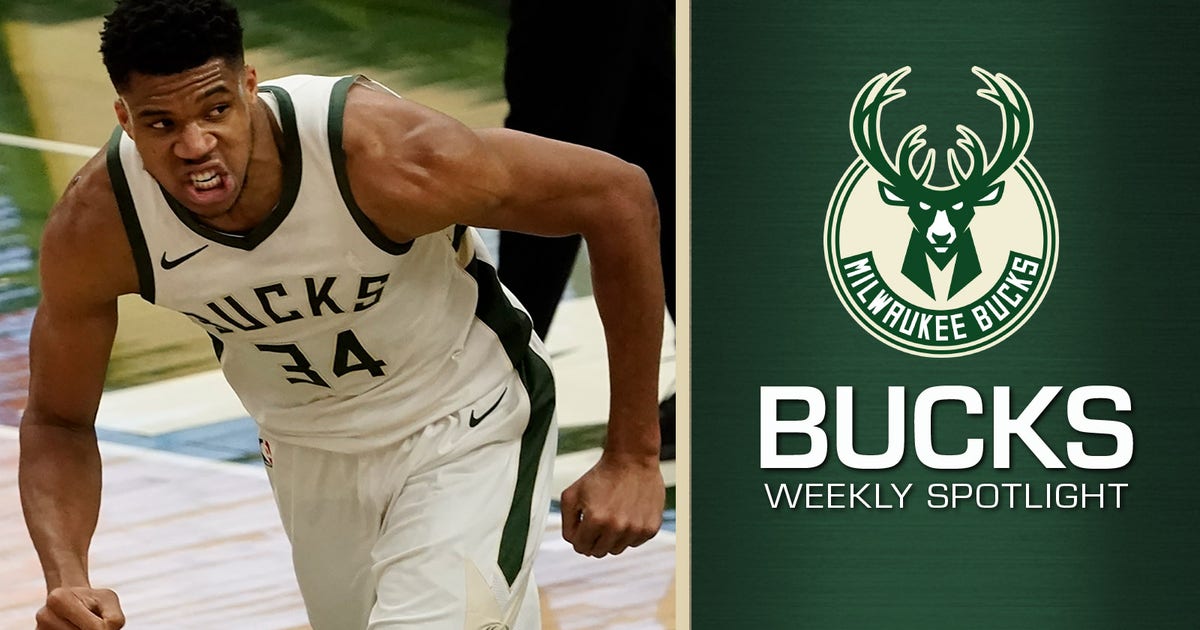 Welcome to the 2020-21 edition of the Bucks Weekly Spotlight. Each Thursday, we'll track the progress of the players who are trying to help Milwaukee make a championship run and give updates on other players from the previous week.
This is the 8th edition of the 2020-21 Bucks Weekly Spotlight.
SPOTLIGHT ON …
Forward Giannis Antetokounmpo
It remains to be seen if the reigning back-to-back NBA MVP will capture the award for a third straight season, but there's no doubt Antetokounmpo is the MVP of the Bucks.
He's being relied on more than ever this season by head coach Mike Budenholzer. In Budenholzer's first two seasons, Giannis average 32.8 and 30.4 minutes a game, down from his over 35 minutes per game in each of the previous three years.
This season, Antetokounmpo is averaging 33.6 minutes per contest while putting up his usually unworldly numbers (28.6 ppg, 11.8 rpg, career-high 6.0 apg). In both January and February, Antetokounmpo has averaged more than 34 minute per game (34.1 and 34.0).
More Bucks coverage
In the past week, his minutes were down – but just slightly – to an average of 33.9 in Milwaukee's four games. This includes Tuesday's game vs. Minnesota when he played just 29 minutes.
Perhaps if he was up to his average Antetokounmpo wouldn't see his streak of double-double games end at seven straight, the second-longest such run of any NBA player this season (Denver's Nikola Jokic had a nine-game streak). Antetokounmpo also had the league's third-longest double-double streak this season, six games from Jan. 18-30.
Still, it's not like he had a bad week. In those four games he averaged 31.8 points, 14.3 rebounds and 7.3 assists. Antetokounmpo is coming off back-to-back 30-point games – 38 and 37 to be exact – which gives him 13 30-point games this season, tied for fifth-most in the NBA.
And if you haven't noticed, Giannis has improved on his free-throw shooting. Over his last three games, Antetokounmpo is 37-of-47 from the line, or 78.7%. He also shot 56.1% from the field in those contests while averaging 34.7 points, 15.0 rebounds, 6.7 assists, 1.3 steals and 1.7 blocks.
Maybe a third straight MVP isn't that far out of the realm of possibility?
BUCKSHOTS
— Speaking of hot shooting, Bryn Forbes sank 5 of 9 3-point attempts against the Timberwolves and made 12 of 26 (46.2%) in Milwaukee's four games last week. He's scored in double digits in six straight games and had a season high 23 points against Minnesota. He's at 46.9% from downtown on the season.
— Donte DiVincenzo, who is averaging a career-high 26.4 minutes per game, was at 28.3 minutes per contest last week. He averaged 12.0 points, 5.0 rebounds and 3.3 assists last week, just above his season marks (10.1, 4.5, 2.8).
— Bobby Portis continues to hit from downtown. He made 62.5% of his 3-point attempts last week and is tied for second in the NBA at 50.0%.
— Pat Connaughton might have humble numbers – 7.0 points, 5.0 rebounds and 2.0 assists in four games – but he had the second-best box score plus/minus on the team over that span — +11.0. Antetokounmpo led with +16.3. No one else was in double figures.
— Thanasis Antetokounmpo averaged 5.0 rebounds last week despite playing just 13.4 minutes per game.
— The G League's Lakeland Magic played five games in seven days last week. Milwaukee's two-way player Mamadi Diakite averaged 18.6 points and 9.4 rebounds in that span, posting four double-doubles and three games with 20+ points.