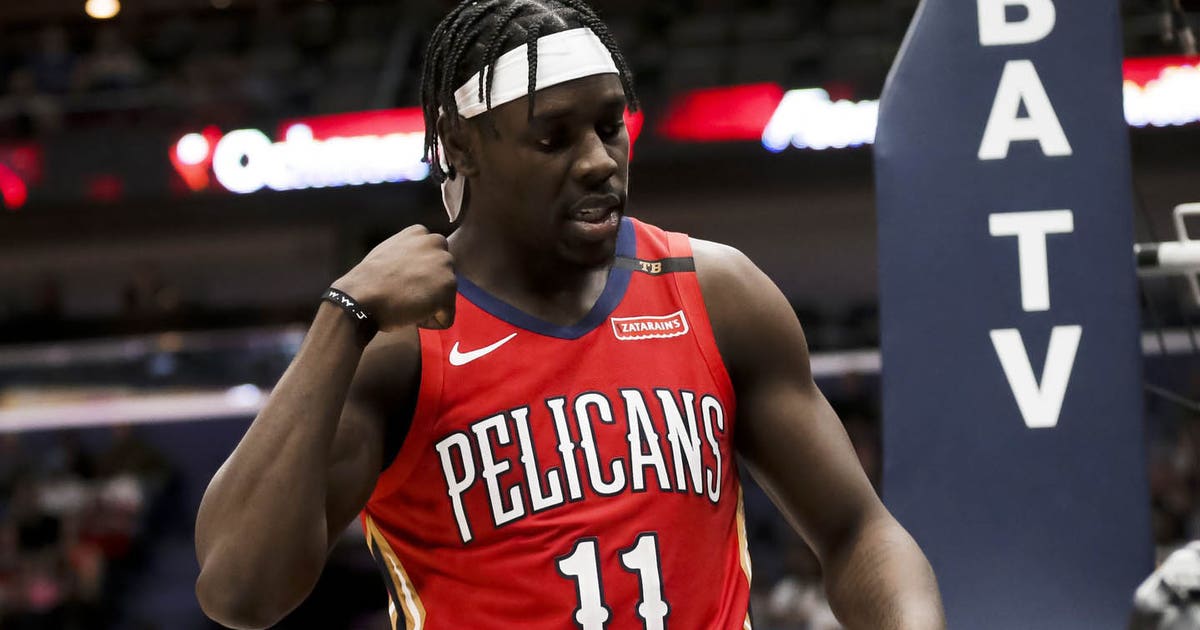 The Milwaukee Bucks made one of the biggest, splashiest moves of the 2020 NBA offseason by trading for point guard Jrue Holiday from the New Orleans Pelicans.
He came at a high price, though. The Bucks had to send two future first-round picks, (potentially) two future first-round pick swaps and point guard Eric Bledsoe to the Pelicans to acquire Holiday. The entire transaction included four teams and sent Milwaukee's 2020 first-round pick to the Denver Nuggets and point guard George Hill to the Oklahoma City Thunder.
More Bucks coverage
It was certainly a lot of assets for the Bucks to send away, but if Holiday's presence helps Milwaukee get to its first NBA Finals since 1974 or possibly win its first championship since 1971, then all the first-round picks it gave up will become small footnotes in history.
At 30 years old, the 6-foot-3 Holiday still has some gas in the tank. He has emerged as a consummate floor general in the NBA who is well-respected by his peers for his defense. Let's learn a little more about him.
COLLEGE
Holiday is from Los Angeles and after an illustrious prep career at Campbell Hall High School he chose to stay in L.A. and play at UCLA. Rivals.com rated him the No. 2 overall prospect in the 2008 class.
He started all 35 games for a 26-9 UCLA team that advanced to the second round of the NCAA tournament. Despite not producing eye-popping statistics as a freshman (8.5 ppg, 3.8 rpg, 3.7 apg), Holiday entered the 2009 NBA draft after one season of college hoops.
PRO CAREER
Holiday's decision to enter the draft early proved to be the correct choice as he was selected by the Philadelphia 76ers with the No. 17 overall pick. After three years of growth, a 22-year-old Holiday averaged 17.7 points, 8.0 assists and 1.6 steals per game for the 2012-13 76ers, which earned him his first and only NBA All-Star Game appearance.
His time in the City of Brotherly Love came to an end in the 2013 offseason when Philadelphia dealt him to New Orleans to spur a rebuild. While Holiday never made an All-Star appearance in the loaded Western Conference, he grew as a player with the Pelicans. In seven seasons with New Orleans, Holiday averaged 17.6 points, 6.8 rebounds and 1.5 steals per game and made the NBA All-Defensive first team in 2018 and the All-Defensive second team in 2019. NBA players felt Holiday was deserving of being placed on the team in 2020, as well.
His scoring topped out in 2019 when he poured in 21.2 points per game.
New Orleans made the playoffs twice in Holiday's tenure. In 2015, the eighth-seeded Pelicans were swept in the first round by the eventual NBA champions Golden State Warriors. The Pelicans made the postseason again in 2018 as a six seed and swept the Portland Trail Blazers in the first round before losing the Warriors in five games the next round. Holiday was excellent in the series against Portland, averaging 27.8 points and 6.5 assists while shooting 56.8% from the floor. He was also a part of a New Orleans defensive backcourt that limited Blazers star Damian Lillard to 18.5 points a contest and 35.2% shooting.
Holiday can do it all – he has four career triple-doubles – even the intangibles. This past season, Holiday, who averaged 19.1 points, 6.7 assists, 4.8 rebounds and 1.6 steals, was named the NBA's Teammate of the Year. Past winners of the award, which began in the 2012-13 season, are Shane Battier, Chauncey Billups, Vince Carter, Mike Conley, Jamal Crawford, Tim Duncan and Dirk Nowitzki.
CURRENT CONTRACT
Holiday signed a five-year deal worth $126 million in 2017 offseason. He is due $26,131,111 this upcoming season and $27,020,000 in the 2021-22 campaign.
PERSONAL
Holiday met his future wife Lauren Holiday (formerly Lauren Cheney) at UCLA and married the United States Women's National Soccer Team star in 2013. She gave birth to their daughter in 2016. However, during the pregnancy, Lauren Holiday was diagnosed with a brain tumor, which was removed weeks after their daughter's arrival. Jrue Holiday left the Pelicans for part of the 2016-17 season to be with his wife.
This past June, Jrue and Lauren announced they were expecting again, with a son due in late 2020.
Basketball is a family affair for the Holidays. Both of Jrue's parents played at Arizona State while his sister, Lauren (this must be confusing around the holidays and the Holidays) played for UCLA, although her time there was cut short due to concussions.
He has two brothers who also play in the NBA. Justin Holiday, 31, played college basketball at the University of Washington. After going undrafted in 2011 and bouncing around various NBA and overseas professional teams, the 6-6 Justin Holiday is currently a member of the Indiana Pacers.
Jrue's younger brother Aaron Holiday went to UCLA also plays for the Pacers. Aaron, a 24-year-old 6-foot point guard, was picked by Indiana 23rd overall in the 2018 draft and started 33 games for the Pacers last season.
This past July, Holiday established the Jrue and Lauren Holiday Social Justice Impact Fund and announced he was donating the rest of his season salary (roughly $5 million) to that cause. You can learn more about the non-profit organization at www.jlhfund.org.
Holiday, who noted he'd been racially profiled several times in his life (his wife wrote about how Jrue was handcuffed one time), said "I want my son to see what I'm doing, see how I'm helping out others, how I'm helping out my community. Again, when I heard it was a boy it was emotional, just because of the things that I've been through in this country and things that I've hidden and hidden away and tucked away."
You can find Holiday on Twitter @Jrue_Holiday11 and Instagram @jrue_holiday11.