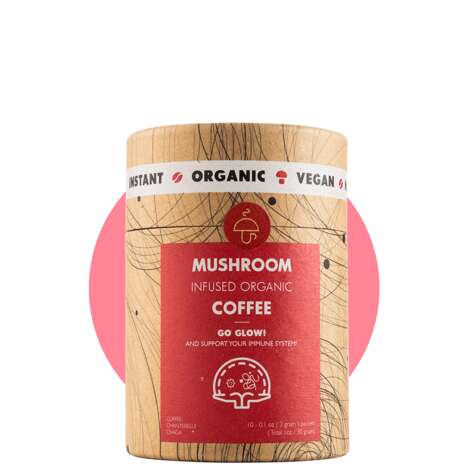 The concept of mushroom coffee is gaining immense popularity in the market as consumers seek healthier alternatives for their caffeine habits. Mushroom Cups is an innovative brand that features four core products that combine organic coffee and professionally chosen fungi.
The 'Go Tireless' is the mushroom coffee that is geared toward athletes. It is powered by Organic Cordyceps, which is "an ancient Tibetan cognitive performance booster, and Wild Chanterelle, which is rich in minerals and delivers the highest known natural concentration of vitamins D and B.
The 'Go Sharp' is an organic mushroom coffee, powered by Wild Chanterelle and Organic Lion's Mane for a cognitive boost. The 'Go Glow' variety features immunity-boosting Chaga and Wild Chanterelle, while the 'Go Relax is designed to "refuel your mind and body" with Lion's Mane and cocoa. The last instant mushroom coffee is coming soon.
Image Credit: Mushroom Cups