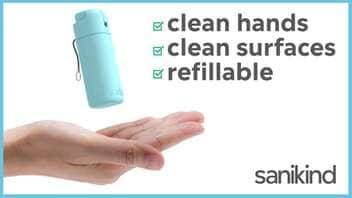 As disposable face masks and gloves litter the global streets amid the COVID-19 pandemic, consumers are now seeing first-hand the devasting impact of single-use plastic, especially as it relates to the health industry. To combat this issue, serial entrepreneur Miles Pepper launched Sanikind, a reusable, refillable hand sanitizer made from 100% recycled ocean-bound plastic.
Pepper notes, "We developed Sanikind because you shouldn't have to choose between clean hands and clean oceans. Experts believe COVID-19 has set us back 10 years in terms of reducing plastic consumption and use. Our Kickstarter supporters can help prevent millions of tiny plastic hand sanitizer bottles from ending up in our oceans, which are already being clogged by single-use coronavirus-related waste."
The Sanikind is available in a spray bottle that holds 1 fluid-ounce of sanitizer which is equivalent to 250 sprays and is available in five colorways including charcoal, navy, teal, coral, and grey. The Sanikind sanitizer is also available in a bulk, 16 oz. bottle made from aluminum—an eco-friendly metal that is infinitely recyclable. The sanitizer is safe to use on both your hands and surfaces.
Image Credit: Sanikind