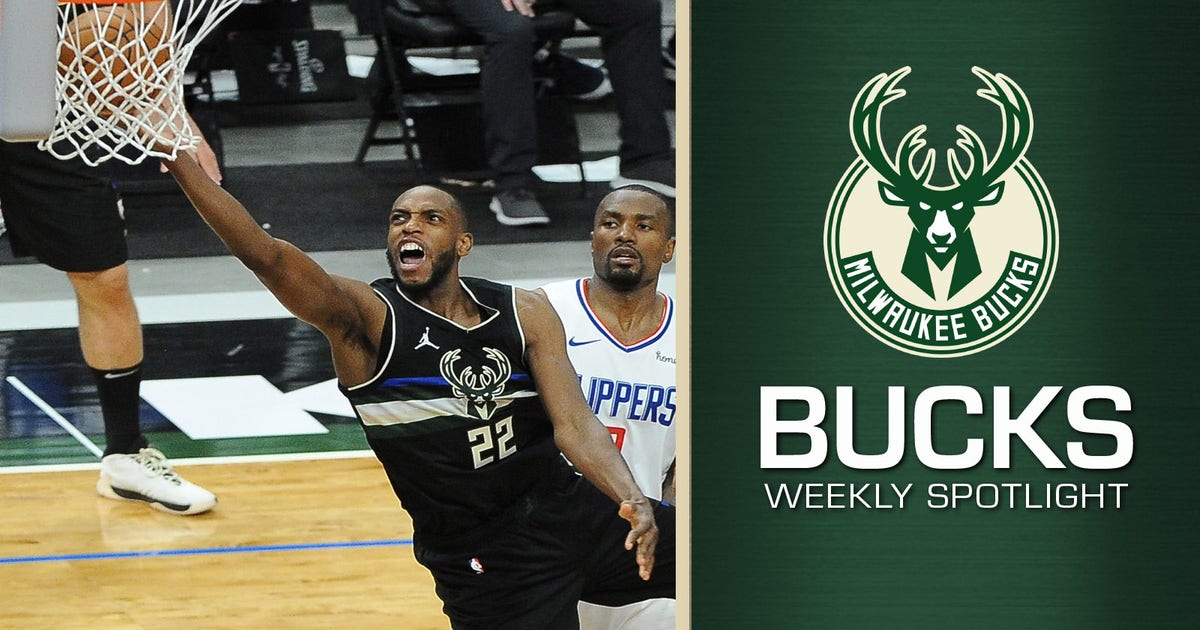 Welcome to the 2020-21 edition of the Bucks Weekly Spotlight. Each Thursday, we'll track the progress of the players who are trying to help Milwaukee make a championship run and give updates on other players from the previous week.
This is the 9th edition of the 2020-21 Bucks Weekly Spotlight.
SPOTLIGHT ON …
Forward Khris Middleton
Last week's results from All-Star voting revealed one big thing: Milwaukee's Middleton was cheated out of making a third straight All-Star game appearance.
The small forward sometimes called "Khash Money" is amidst a season worth remembering, averaging 20.5 points, 6.0 rebounds and a career-high 5.8 assists per game.
More Bucks coverage
In four outings since Feb. 23, Middleton has upped his scoring average to 21.3 points per contest and dished out 24 total assists. He's the clear-cut second-in-command on the Bucks roster — behind back-to-back NBA MVP winner Giannis Antetokounmpo — and can be routinely counted on to get buckets in various manners.
On Feb. 21, Middleton scored a season-high 32 points on 13-of-22 shooting. He added eight rebounds, half-a-dozen assists and four steals. He's eclipsed the 30-point mark four times this season, and drilled at least three 3-pointers in 16 games — on the year, he's shooting 43.6% beyond the arc, the best clip of his nine-year career.
Keep in mind, Middleton earned consecutive All-Star nods with similar or slightly lower averages across the board the last two seasons. Perhaps, he's become underappreciated from a national perspective, or simply overshadowed by his juggernaut teammate. Regardless, Middleton's contributions have been key to Milwaukee's success.
The Bucks have posted a 12-7 record in games that Middleton has reached 20 points — conversely, Milwaukee is 9-7 when Middleton fails to do so.
It's safe to presume the Bucks wouldn't be where they're at, fighting for one of the top three spots in the Eastern Conference standings, without their All-Star snub.
BUCKSHOTS
— Milwaukee was riding a sweet five-game winning streak, during which Antetokounmpo was feeling himself, averaging 35.6 points, 13.8 rebounds and 5.8 assists per game, before Tuesday night's 128-97 thumping at the hands of the Denver Nuggets.
— Sharp-shooters Bryn Forbes and Bobby Portis have cooled down considerably over the last three games since scoring a combined 37-points versus the Minnesota Timberwolves on Feb. 23. Forbes has pieced together scoring nights of two, five and nine points, while Portis has been held to just nine made-looks from the floor.
— Guard Jrue Holiday has been eased back to work since rejoining the lineup on Feb. 28, playing fewer than 20 minutes in both of Milwaukee's games. His impact has been meager, thus far, with two- and four-point showings. Holiday also has yet to make a 3-point attempt off seven tries.